25 years of battle to achieve perfect sanding
It sounds like a difficult task, but nonetheless, it has been the key to one of the most innovative companies of all time. Sanding objects that, to some, seem like a simple task had become Poul Erik Jespersen's entire focus. The goal was to optimize the sanding process so that it would become simplified and perfect.
"It must be possible to do it more easily – and better"
The thought occurred to woodcutting machinist Poul Erik Jespersen as he was leaning over the hand sander at his workplace in a furniture company. The thought developed into an idea that, after eight years of development, became an internationally recognized and patented sanding system, which is sold all over the world today. That is how the adventure of the company Flex Trim started with the pioneer Poul Erik Jespersen at the helm.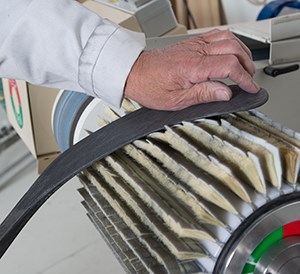 From wooden man to 'man of steel'
It started with sanding solutions for the lumber industry, but Poul Erik Jespersen could see that other industries faced similar challenges with sanding solutions. Therefore, sanding solutions are now also being developed for industries such as the metal and composite industries, and new areas are emerging.

Suits most people
The sanding system can be mounted in virtually all machines, as long as the machine is equipped with a shaft and a frequency-controlled motor, which is crucial for achieving the correct speed. This means that the customer can normally use existing machines and thereby avoid expensive investments in new ones.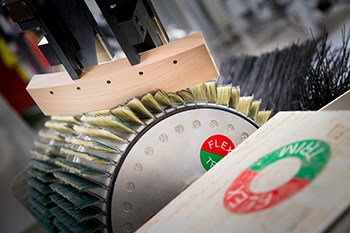 Perfection on the surface goes deeper
Only by making what is already perfect even better can the company continue to be the market leader. That is why our team is constantly fighting to develop new and better solutions. It is simply about quality that goes deeper than just the surface. We simplify and improve work processes in production, so that the customers' quality and capacity increase.
That is why we have a vision and a mission that show us the way in everything we do for our customers. If we follow those, we also follow the dream of creating unique sanding solutions for products of the future.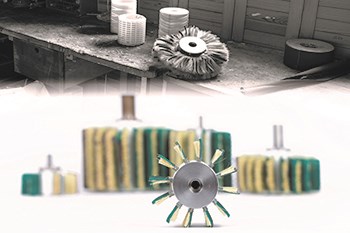 25 years as pioneers
We should celebrate the first 25 years as advocates for better sanding, but times prevent us from gathering customers from all over the world. Nevertheless, we would like to mark our milestone by sharing how our innovation has become a big plus for our customers – and will continue to be so in future solutions.
We look forward to 2045 when we pass the next milestone …