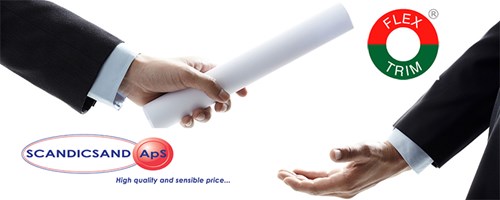 SCANDICSAND JOINS FLEX TRIM
 
We are pleased to inform you that per 28th May 2017, Flex Trim A / S will take over all the activities of ScandicSand ApS.
Flex Trim A/S and ScandicSand ApS have for a number of years had shared production facilities but have operated as 2 independent companies.
ScandicSand's products will continue unchanged as a product line under Flex Trim A/S.
For a long time we have had a desire to strengthen our organization, as well as to expand the product-range. At the acquisition of the activities in ScandicSand ApS we achieve both, and at the same time we are able to offer our customers an even wider program. With the implementation of ScandicSand's product in the program, we now have 3 products in our program - Flex Trim, ScandicSand and EcoFlex - In other words, we have something to suit everyone!
From 29th May 2017, you will receive order confirmation, delivery note, invoice and similar with Flex Trim's name and logo. Please note that payment shall happen to a new IBAN number (see down below).
You are welcome to contact us if you want to know more about the 3 product types and the benefits we can offer you.