It is with great pleasure that Flex Trim the 4. Of September could announce a new Product manager in their team – Peter Lyndrup.
"Flex Trim has for a long time been working with metal including deburring. We now feel that we have created a great deal of knowledge in the metal industry and that is why we have chosen to invest heavily in this market" pronounce director Anne Bjerre Larsen.
Peter shall only be involved in the metal industry, where he will be responsible for servicing and helping our current but also future metal customers. I the beginning Peter will primarily focus on the Danish customers, but he will quickly be supporting the whole world.
In the start Peter will work closely together with our technician Jan Gjedde.
Peter is 43 years old and residing at Mors, where he lives with his wife Helle and there 3 kids. Peter is a real out-door person who among other things loves to go out hunting.
We warmly welcome Peter to Flex Trim and look forward to working closely with our current and future projects for the benefit of our customers, partners and us as colleagues.
Peter is already ready by the phone and e-mail, so do not hesitate to call him or send him an email. Peter can be reached at 23995827/96763427 or at ply@flex-trim.com.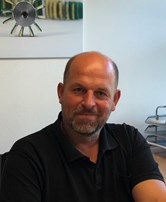 Peter Lyndrup
Phone: 96763427
Mobil: 23995827