Flex Trim is ready with two novelties at the LIGNA fair
Over the years Flex Trim has been a "first mover" in many ways. And, that is why we are proud, again, to be able to present two novelties at the LIGNA fair which takes place from 27 May to 31 May 2019 in Hannover.
Flex Trim has experienced that many companies have already started working with robot solutions taking over many of the everyday monotonous, heavy and difficult tasks.
Very often sanding processes are connected with monotonous work and poor ergonomics. This is why the robots are perfect for sanding etc in particular.
Also, it has now been proven that by integrating robots we can increase competitiveness, production flow will be more consistent, the possibility of increasing the production and even create more products is bigger, and the possibility of expanding and create more jobs will also increase.
As we are quite aware that no sanding solutions are alike, we have developed two sanding solutions which both can be used for automation/robots iSand Cobot and iSand HWY. With these two solutions we feel that we can assist in most sanding solutions and offer an easy optimization of your production.
The iSand Cobot solution is developed for collaborative robots and solves most kinds of sanding tasks within the wood, metal and composite industry. So, if you are looking for a better production flow, reduced costs and bigger output this solution will be ideal for your company. Our aggregate is available with both a pneumatic and an electric solution.
An iSand HWY solution is for bigger robots. It comes with an electric motor and can be integrated on new robots as well as on old robots. This solution offers a sanding width from 100mm and upwards and enables you to deal with the most complex sanding tasks.
You will be able to see both of the above solutions and an UR-Robot on our booth G20 in Hall 17 at the LIGNA fair. Here you also can see a perfect standard solution where we demonstrate how our machine SandPerfect 600 easily and safely collaborates with the robot that brings the sanding item to the sanding machine.
BOOK A TECHNICIAN:
Finding the right sanding machine that matches your production and requirements can be difficult and also resource demanding. Therefore, as a new initiative, we can now offer you to "book a technician".
What does that mean for you and your company?
It means that we will arrange to meet at our booth where we will discuss your sanding requirements and what we can offer. Then we will assist you throughout the process and guide you through the big machine builders so that we in close cooperation ensure that you will get the right and best solution for your company. We have a lot of experience but we do not have any machine preferences, so Flex Trim will always have a neutral point of view.
Interested? Then do not hesitate to "Book a technician" and ensure an appointment at the fair already now by contacting our technician Mr Jan Gjedde on +45 20 70 53 12 or on jg@flex-trim.com.
Last but not least…
Again, we are ready to show LIGNA that with the right sanding equipment you will easily and quickly achieve THE PERFECT SURFACE.
In case you want Flex Trim to assist in your sanding issues, we are more than ready to offer our help, and please feel free to contact one of our technicians on +45 96 76 01 28, our Robotic department on +45 96 76 34 23 or Mr Casper Bjerregaard on cbj@flex-trim.com and he will be ready to assist you.
We look forward to seeing you at our booth in Hall 17 - G20 and having a talk with one of our sales people or technicians. Or, just come by to enjoy a red sausage which we are serving in our booth as usually.
P.S.
We are not the only ones that have realized that robots and sanding are working really well together. Therefore, you can also experience sanding with robots on VOLPATO's booth in Hal 11 - B02/1 and on LESTA's booth in Hall 17 – D79.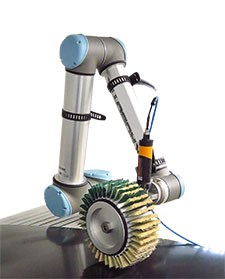 iSand Cobot
See  the video of our iSand Cobot her