It is with great pleasure that we can present our new employee Teresa Lombardo. In fact, Teresa has been employed since January 1, 2021, but because of Corona she had her first day in the head office at Flex Trim in March. 
"Italy has been an important country in our market strategy for many years and with the employment of Teresa, we are ready to take it a step further. We are sure that with her Italian genes, experience, knowledge and good mood, she can add a new lewel to Flex Trim, but certainly also a great value for our customers." Says sales manager Karsten Larsen.
Teresa has been working for Costa Livigatrici for the past 15 years. Here she worked with spare parts and provided technical assistance mainly to the wood- and metal- machine manufacturers. Here she learned among other things to take good care of the customers and provide them an incredibly good service.
In addition to Italian, Teresa also speaks fluent English and Spanish and after nearly 2 years in Denmark she speaks very good Danish.
We warmly welcome Teresa to Flex Trim and look forward to a good collaboration around our current and future projects for the benefit of our customers, partners, and us as colleagues.
Teresa is already ready by phone and email, so do not hesitate to call her or send an email. Teresa can be reached at +45 23995826 and tlo@flex-trim.com.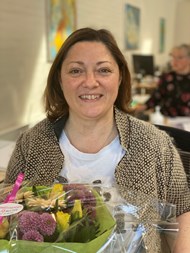 Teresa is 48 years old and was born
and raised in Italy. In August 2019,
Teresa and her family chose to move
to Denmark, which they certainly have
not regretted.